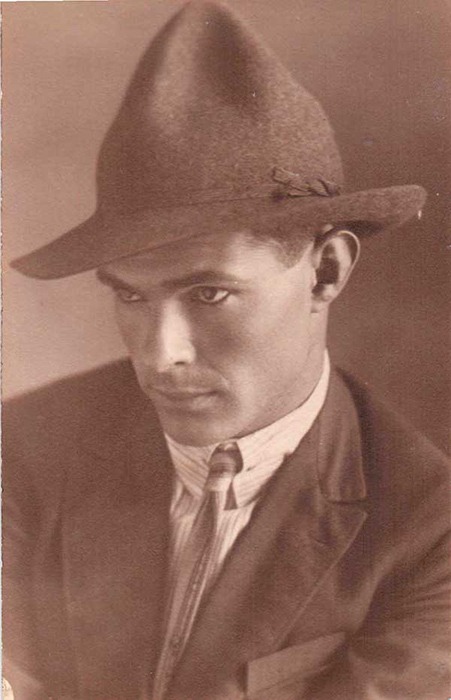 Semen Svashenko was a Ukrainian actor, the star of Dovzhenko's films Zvenyhora (1927) and Arsenal (1929).
He was born in Derhachi village in Kharkiv region in a peasant's family. He moved to Kyiv in 1922, joining the Cooperative College, which he soon left for the sake of Mykola Lysenko Music and Drama Institute, where he studied in Les Kurbas's class during 1922-1925. He later became an actor at Berezil theatre.
In 1925, thanks to Kurbas, he made his film début in Arsenaltsi (1925), the plot of which was based on the Bolshevik Uprising at the Arsenal factory in Kyiv. The plot and message of the film were later reconsidered by Oleksandr Dovzhenko in Arsenal, where Svashenko would play the leading role.
His second appearance on screen was in Dovzhenko's Zvenyhora (1927), where he embodied the canonical image of the young Ukrainian guy Tymish.
Svashenko's peculiar expressionless face, which contrasted with the lively and variously nuanced play of his eyes, was noticeable in all his works.
In 1929, Semen Svashenko starred in four films, In Snow Banks, Two Women, Blaze the Trail, and The Exhibit from Panopticon. The last one, directed by Heorhii Stabovyi, was a bright example of the Ukrainian psychological silent film, and Svashenko played his second leading role in it.
In 1930, Semen Svashenko starred in two of the most prominent films of the Ukrainian avant-garde cinema, Earth by Oleksandr Dovzhenko and Perekop by Ivan Kavaleridze. Svashenko's role in Earth, unlike all his previous roles in Dovzhenko's films, was soaked with vitality, and the episode with his character's dance is still considered to be one of the most lyrical episodes of the world cinema.
The following Svashenko's roles in Ukrainian cinema, Man from a Small City (1930), Fata Morgana and Stormy nights (both 1931), were minor. In 1933, probably trying to escape from repressions, he moved to Moscow, and since then he only played at Russian film studios (except for the film Pages of the Past in 1957, filmed at Odesa Film Studio).
Notable pre-war films starring Svashenko include the romantic comedy By the Blue Sea (Біля самого синього моря) (1935) by Borys Barnet and Dokhunda (Дохунда) (1936) by Lev Kulieshov. In post-war films, he got secondary roles including the roles of Haranzha in And Quiet Flows the Don (1957-1958) by Sergey Gerasimov and the old soldier in War and Peace (1965) by Sergey Bondarchuk. From 1945, he worked in the Film Actor's Theatre in Moscow, and from 1957 – in the actors' studio Mosfilm.