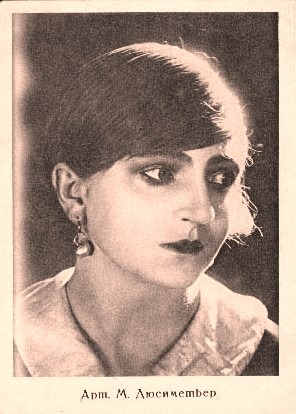 Mariia Diusimetier was a Ukrainian Soviet silent film actress.
In 1927-1928, Maria Dusimetier starred in five films at VUFKU's Odesa Film Studio. This made her one of the first stars of the Ukrainian film industry.
Filming took place almost simultaneously, and the films came out one after another. In the film The Eyes That Saw (1928, based on Sholom Aleichem's short story Motele-idealist) Diusimetier had to play the wife of an intendant Kolotov (Sergei Diaharin).
Maria Diusimetier also played Katia (the daughter of the main character) in a film that became a classic of the Ukrainian silent cinema Night Coachaman (1927). The role of Hordii, a night coachman, was played by one of the best Ukrainian actors of that time, Amvrosii Buchma. At the same time, Buchma and Diusimetier starred in Nikolay Okhlopkov's film Sold Appetite (1928, based on Paul Lafargue's pamphlet), only this time the actors had to play lovers.
Diusimetier and Buchma worked together on more than one filming locations. Particularly, in the film On the Eve (1928), where Mariia played a sex worker.
When Amvrosii Buchma decided to try himself as a director, he gave the leading female role to Mariia Diusimetier. In the film Behind the Wall (1928), Buchma played not only the role of director and scriptwriter, but also the performer of the leading cast the imprisoned revolutionery Yanush Topchynskyi, with whom Diusimetier's heroine Klara falls in love.
As of 1929, Mariia Diusimetier was a famous actress, her portraits were depicted on postcards with thousands of copies.
In 1929 Yevgeniy Chernyak wrote about Mariia Diusumetier on the pages of the magazine Krytyka (1928-1932). In the article 'Ways of Ukrainian Soviet Cinematography' author stated that Mariia Diusimetier and Anna Sten "switched to the Russian cinema". It is known that Anna Sten emigrated to Germany in the early 30's, but what happened with Mariia Diucimetier remains unknown and her traces are lost. The same fate befell several other successful actresses of VUFKU: Polina Sklyar-Otava, Oksana Pidlisna, and Mili Taut-Corso.