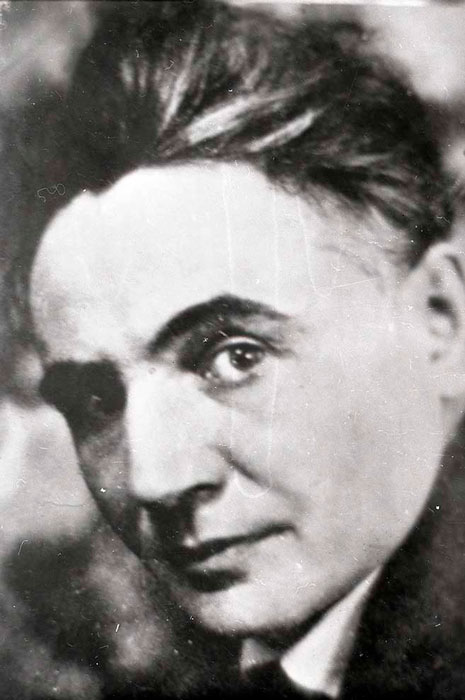 Les Kurbas was a Ukrainian director and theatre theorist, founder of the experimental Berezil theatre. Not only talented actors, but also a number of directors came into filmmaking thanks to Kurbas.
He was born in the Galician town of Sambir in a family of actors; he planned to connect his life with this profession. His parents toured with Ruska Besida theatre, where Kurbas also worked for some time. Due to his studies in Vienna and Lviv, he got familiar with the European modern culture of that time.
In 1907, he created a student theatre where he was a lead actor and a director.
 In 1916, he moved to Kyiv and joined Mykola Sadovskyi's acting company. One year later, he put together young performers who were interested in innovative experiments and searches in the field of acting techniques. Later, this group turned into Molodyi Teatr.
He worked as a director at Kyiv Opera Theatre Muzychna Drama, toured with Kyidramte theatre.
In March 1922, he started his most ambitious project – Berezil artistic association, as part of which Kurbas managed to move away from purely psychological theatre in favour of transformation theatre.
Kurbas was one of the first in the USSR to include film projection in his production Jimmy Higgings (1923). Starting 1923, he was also a dean of the Drama Faculty of Lysenko Music and Drama Institute.
A new generation of directors and actors grew on expressionist and innovative experiments of Berezil theatre, and some of them began working in filmmaking in the second half of the 1920s.
In 1924-1925, invited by VUFKU, Les Kurbas made several films such as McDonald, Tovstopuzenko's Dream, Vendetta, and Arsenaltsi, which were demonstrated in cinemas as part of the film journal Flywheel (unfortunately, none of the films survived).
Following him, such Berezil directors as Favst Lopatynskyi, Khanan Shmain, Oleksandr Perehuda, Borys Tiahno, Pavlo Dolyna, and such actors as Amvrosii Buchma, Nataliia Uzhvii, Petro Masokha, Semen Svashenko, Zinaida Pihulovych, Stepan Shahaida, Les Podorozhnii, etc. came to work for VUFKU.
In 1933, Kurbas was suspended from Berezil management.
Aware of the threat, the director moved to Russia and began to work at one of Moscow theatres, however, that same year he was arrested and sent to a penal colony for five years.
When in exile, the director did not stop his activities and staged around 10 plays, but in 1937, he was shot down on the Solovets islands in the area of Sadramokh.