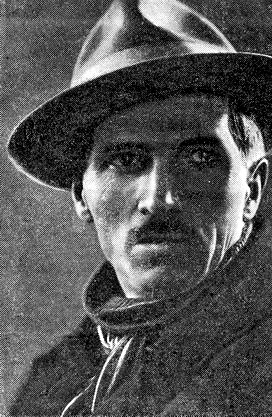 Arnold (Andrii) Kordium was a Ukrainian director, a master of adventure film, a native of Stanislav.
He left his home as a child and joined a travelling circus, where he actually changed his name from Andrii to a more melodious name Arnold.
In Katerynoslav he took part in the shootings of one of the first Ukrainian films Zaporizhzhia Sich (1911) directed by Danylo Sakhnenko. His stepfather Yalysei Shaplyk worked as a scenographer there.
He got through World War I, then he was in charge of an agit-train, later he served as a head of the propaganda department of Chernihiv district committee.
In 1924, Kordium became a Director on Ideology of VUFKU's Yalta Film Studio, and the next year he was transferred to a similar position at VUFKU's Odesa Film Studio. There he made his début as a director of a short film Behind the Forest (1926), where Oleksandr Dovzhenko also worked for the first time (as one of filmmakers).
Following that, Kordium was entrusted with shooting feature films Case No. 128 and The Invincibles (both filmed in 1927). The first one was dedicated to the pre-revolutionary fight of 1917, and the second one – to the fight of the Italian working class against the Falangists.
Later, Arnold Kordium shot such films as Dzhalma (1928, a story of a Chechen girl bullied by conservative residents of a Ukrainian village), Wind From the Rapids (1929, about the construction of Dniprohes on the Dnieper river), Mirabeau (1930, a narration of revolutionary events in Odesa in 1919), «Полум'я гір» (1931, a story of the Western Ukrainian loggers' fight against the Polish tyranny), gaining the reputation of a master of adventure film who easily combined revolutionary topics with social and domestic ones.
Yet, after VUFKU reorganisation and subordination of the Ukrainian filmmaking to Moscow, Kordium actually lost the opportunity to work in fiction films.
In 1935-1940, he worked at Tashkent Film Studio Uzbekfilm, and later moved to Kyiv studios Ukrkinokhronika and Kyivnaukfilm, where he could shoot such films as «Колгоспні таланти» (1940), «Асканія-Нова» (1947), «В дружбі з наукою» (1948), «Соняшник» (1949), «Слюсарні операції» (1953) and «Паровоз» (1955).