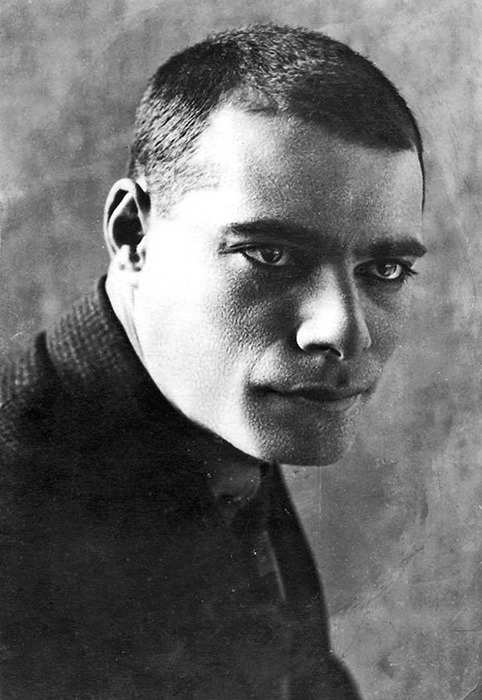 Solomon Lazurin (Baievskyi) was one of the most active and famous scriptwriters of Ukrainian cinema of the first third of the 20th century.
Born in Melitopol, he moved to Kharkiv in the early 1920s, where he joined Kharkiv Institute of Public Education (Kharkiv University).
He started his work at VUFKU in 1924 with script writing for short films. The first film based on Lazurin's script was Vendetta (1924), directed by the avant-garde theatre director Les Kurbas. The next short film based on Lazurin's script was shot by the classic of the Russian pre-revolutionary filmmaking Petro Chardynin.
That same year, Lazurin wrote the script of the full-length film Warrant Order (1926), which marked the turn of Ukrainian cinema towards psychological realism. The same style was inherent in the subsequent film by Lazurin, Struggle of the Giants (1926), based on Lazurin's novel.
Psychological component was also the key one in the film Two Days (1927) directed by Heorhii Stabovyi. The press compared it with The Last Laugh (1924) by Friedrich Murnau, and it was rightly considered Lazurin's masterpiece. After that, he wrote scripts for two more Stabovyi's films, The Exhibit from the Panopticon (1929) and Don't Prevent Movement (1930). He also managed to work on the comedy Three Rooms with a Kitchen (1928), based on the script How are the things? by Vladimir Mayakovsky and the drama depicting the life in a Jewish town The Eyes that Saw (1928).
Lazurin first and last tried himself as a director in 1930, by making the propaganda film Bashtanskaya Republic about the achievements of collectivisation. However, the film was soon banned by the party because of its "right-leaning." After such a "warning" in the midst of the repressions in Ukraine, Lazurin "switched" from psychological topics to "class-revolutionary" ones highlighting the class struggle during the revolutionary events of 1917-1921 in the films Don't Prevent Movement, Attack (1932) and Kakhovsky bridgehead (Каховський плацдарм)(1933). In 1935, Lazurin wrote the script for the musical comedy The Intriguer (Інтриган) (1935), which was inspired by the comedies of Grigoriy Alexandrov.
At the same time, he became the artistic director of Kyiv Film Studio (later to be named after Dovzhenko). But in two years, in 1937, Lazurin was repressed, imprisoned, and released only before the war.
Having returned to Kyiv from evacuation, he worked as an editor at Kyiv Film Studio until 1949. In the 1950s, he wrote a number of scripts for agriculture-related documentaries