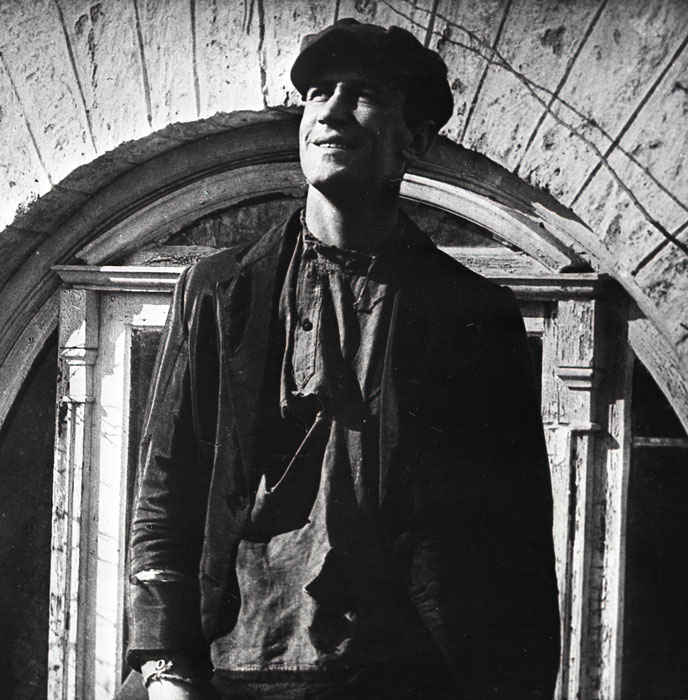 Serhii (Sergey) Artemievych Minin was a Russian film actor who played in a number of films produced by Odesa Film Studio VUFKU in 1926-1927 and 1930-1934. He was born in Vladivostok. In 1923-1925, he studied at the film and acting studio of one of the pioneers of the Russian filmmaking, a film theorist and director Boris Tchaikovsky. In 1926-1927, he lectured in the studio. He performed in operetta, cabaret, and circus (as a wrestler).
Due to his spectacular appearance and strong physique, he mostly played revolutionaries, justice fighters, adventurers and travellers.
Before being employed at Odesa Film Studio, where he was apparently invited by the VUFKU administration, he played in three Russian films. His first work in Ukraine was Benia Kryk (1926) by Volodymyr Vilner, written by Isaac Babel. He also starred in Oleksandr Dovzhenko's The Diplomatic Pouch (1927) and Heorhii Stabovyi's Two Days (1927), where he played Andrii, the son of the old doorkeeper Anton.
After leaving Ukraine, he appeared in films by Abram Room and Ilya Trauberg.
In 1930-1934, in Ukraine he played extras in the films Secret of the Rapids by Pavlo Dolyna, Mirabeau by Arnold Kordium, Don't Prevent Movement by Heorhii Stabovyi, Perekop by Ivan Kavaleridze, and starred in the film Полум'я гір by Arnold Kordium and Joseph Rona, etc.
As Minin's name is not mentioned in the cast of the last two films, he probably fell prey to the 1937 repression.