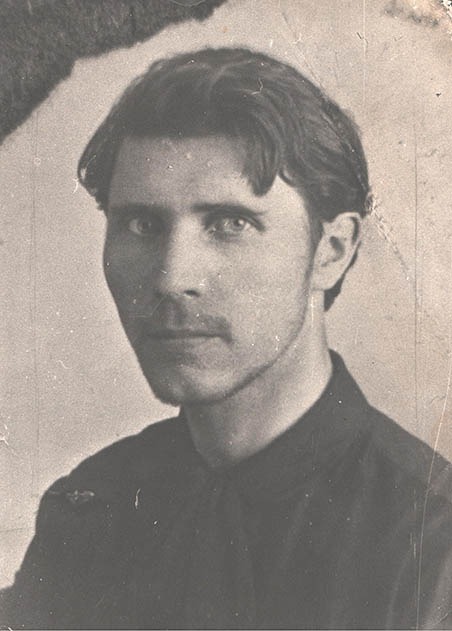 Ivan Kavaleridze (1887–1978) was a sculptor and director; he was an author of the first statues of Taras Shevchenko and Bolshevist politician Artem (one of the first Constructivism monuments in Europe); he was a director of several avant-garde historical films, and after the Socialism focus in the Soviet art he became a pioneer cameraman.
Soviet critics ranked Kavaleridze, the author of nine full-length films, together with such personalities as Dovzhenko, Pudovkin and Eisenstein. However, Kavaleridze still remains an outsider in Ukrainian culture.
He was born in Talaivka, Poltava region, in a Georgian-Ukrainian family. He studied at the Kyiv Art School, Saint Petersburg Academy of Arts, and in 1910-1911, he went to Paris to study at Naoum Aronson's private studio.
Upon his return, he took part in a contest for the best project of Princess Olga's statue in Kyiv and for some time he served in the Russian army. In 1918, he returned to Ukraine where he worked as an art director of Romny Workers' and Peasants' Theatre and opened the talent of a bricklayer and amateur actor Stepan Shkurat for Ukrainian cinema.
After his acquaintance with Oleksandr Dovzhenko and VUFKU's deputy head Zinovii Siderskyi, he started his filmmaking career. The biggest mystery of Kavaleridze's filmography was his lost début film Downpour (1929) inspired by Constructivism, Berezil Theatre's creative works and Taras Shevchenko's poetry.
The film received severe criticism and polar feedback from press, so in his following works Kavaleridze tried to curb his avant-garde ambitions, however, the epic Perekop (1930) and the edited Штурмові ночі (1931), and one of the first Ukrainian sound films Коліївщина (1933) tended to Constructivist aesthetics and did not receive enough positive reviews from film critics. Kavaleridze's Prometheus (1936) became a groundbreaking film for Soviet cinema, and even the head of the Soviet film industry Boris Shumyatsky joined the debate over it with his article "To Clear and Understandable Cinema Arts." Destructive criticism of the Communist party marked the final establishment of Socialist Realism in cinema.
Later, Kavaleridze was assigned with shooting conflict-free musical film operas like Наталка Полтавка (1936) and Запорожець за Дунаєм (1937). While shooting the film Oleksa Dovbush (1941), Kavaleridze found himself in German occupation, where he tried to temporarily cooperate with the new authorities. As a result of this, Kavaleridze managed to return to the Soviet arts only during the Thaw, when he shot two of his last films Hryhorii Skovoroda (1959) and Повія (1961) in an old-fashioned manner for the time and occasionally returned to sculpture.