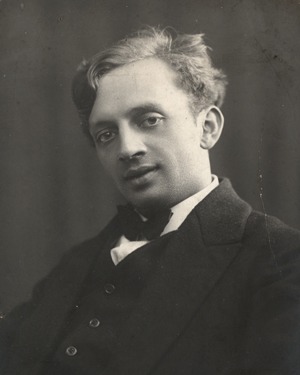 Aksel Lundin (1886–1943) was a soviet actor and director of Swedish origin, one of the first filmmakers of Odesa Film Studio, a pioneer of the children's film.
In 1905, Aksel Lundin, a nineteen-year-old native of Stockholm, arrived in the Russian Empire under unknown circumstances (presumably inspired by the democratic revolution). In five years, he was an actor of Saint-Petersburg Drama Theatre. Soon the theatre director and head of Saint-Petersburg Drama School Andrey Petrovsky recommended him as one of his best alumni to Kharkiv theatre reformer and director Mykola Synelnykov. Lundin moved to Kharkiv, and in 1912, as part of Synelnykov's actors' group, he first appeared on screen playing one of roles in Nikolai Minervin's boulevard drama A Victim of Savage Vengeance (Жертва дикої помсти) (1912).
Before the revolution, Lundin most likely combined both theatre and cinema activities, namely he worked in one of the most ambitious pre-Soviet Kyiv film studios Khudozhestvennyi Ekran (Feature Screen). The last production of the group and the first Lundin's experience as a director was the film With Blood to Renaissance (Кровію до відродження). Created in the autumn of 1919 for Denikin's counterintelligence, this revolutionary "slasher" vividly depicted Bolsheviks' atrocities in Kyiv.
When the Red Army took control of Kyiv, Lundin became one of the pioneers of the Soviet film industry, and also in 1919, under the umbrella of the All-Ukrainian Film Committee, for the People's Commissariat for Military Affairs he shot a number of propaganda films, namely «У царстві ката Денікіна», «Всеобуч», «На допомогу Червоному Харкову», «Слухайте, брати», «Той, що прозрів». In 1921, several propaganda films about famine, namely Vladimir Gardin's and Vsevolod Pudovkin's «Голод… Голод… Голод», were released. Again, Lundin found himself in the forefront of the political order shooting a feature film about famine named «Квіти на каменях» («Велике лихо»). The script was written by the future director of Odesa Film Studio, Georgi Tasin.
When VUFKU was founded in 1922, Odesa Film Studio turned into the main film production site of the Ukrainian SSR; and Lundin following Pyotr Chardynin, Mykola Saltykov and Les Kurbas became a leading director of "the Hollywood by the Black Sea," where in 1924 he shot a film novella about revolutionary events in Donbas «За чорне золото». It is likely that Lundin focused on film production when Synelnykov's actors' group was dissolved in 1925. In June that year, the feature film «Лісовий звір» based on Dmytro Buzko's eponymous autobiographical detective story was released. Both the story and the film were quite popular with the audience. In November 1925, Lundin began shooting a new film for Odesa Film Studio named 1920-1921 (the final name was Red Army) scripted by Hryhorii Drobin. It is not known if the film was finished and released. It is, however, known that in April 2016, nearly the first children's film Mariika directed by Lundin was released. The story of an orphan girl who eventually became a pioneer and found her sister at the factory became a milestone in Lundin's career. Although that year Lundin and Georgii Stabovyi filmed an action adventure film «П.К.П.» («Пілсудський купив Петлюру»), he gained a reputation of a master of children's films in the Ukrainian film industry.
On 2 August 1927, in the unfinished soundstages of Kyiv Film Studio shooting of the children's adventure film «Ванька та Месник» scripted by the future star of Stalin's miners' films Leonid Lukov began. One more expert of children's films, Lazar Frenkel, became Lundin's assistant director in the project about adventures of a boy spy and his German shepherd Mesnyk. The film was released in March 1928, and the director Lundin received a bonus of 300 karbovanets (about $150), which was 50 karbovanets more than an average salary of the best paid studio officials. While filming «Ванька та Месник», Lundin took up filming two scripts of the legendary circus artist and animal trainer Vladimir Durov. After all, the scripts «Четвероногие актеры» and «Басни Крылова» were recognised as "unfit for filming" and delayed indefinitely. In late 1927, Lundin was tasked with shooting the children's film The Adventures of Tom Sawyer with a meagre budget of 30,000 karbovanets.
In late 1928, Lundin cemented his status of the master of children's films, and the manager of Odesa and Kyiv Film Studios Pavlo Neches deemed it necessary "to further use the director Lundin for staging children's films." The second children's film shot by Lundin at Kyiv Film Studio (scripted by the Futurist poet Mykola Bazhan) became the benchmark in its genre, many critics believed. Everyone, from pedologists of the Ukrainian Academy of Science to female workers of Leninska Kuznia Plant, complimented the film «Пригоди полтинника» (1929) inspired by Volodymyr Vynnychenko's short stories and stated, "of all the Soviet films that can be shown to children there is only one – «Adventures of Half a Rubel»."
The film «Помилки професора Торайля» («Башта професора Тараля») scripted by Davyd Marian was to be the next film in Lundin's career. However, the work on the film was suddenly suspended by VUFKU's order. In 1929, Aksel (Axel) Lundin left Ukraine and cinema and returned to theatre directing; he became a head of Novokuznetsk Drama Theatre. In 1943, one year before his death, Lundin staged Commander Suvorov (Полководець Суворов) in Yaroslav (or Yaroslavl?).