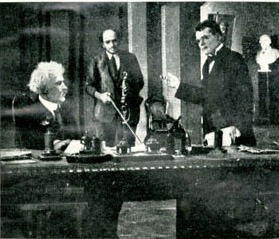 1928, First Film Studio VUFKU (Odesa), 6 parts / 1,604 m
The film is based on A. Kuprin's short story Gambrinus.
Sashko, a musician, lives on the outskirts, among poor Jewish people. When he takes his violin, it starts crying and laughing as if it is alive; and that is a real talent of the guy. But Sashko is poor, moreover, he is Jewish, that is why the door to the music school is closed for him. The only place where he can gladly play are pubs for poor people and prostitutes.
1905 is drawing close. Sashko is subconsciously attracted to people who strive for freedom. A member of the Black Hundreds Malyna hates Sashko because he plays revolutionary tunes on his violin. The war between Russia and Japan begins.
Sashko is mobilised to the front. When injured, he returns. And again, one can hear revolutionary tunes in the pub; the musician challenges pogrom makers and executioners. Malyna and some of his people cruelly kill the violin player. Then, there is only his bloodied body and a silent broken violin on the stage.
The film was released on 27 October 1928 in Kyiv.
The film is lost.