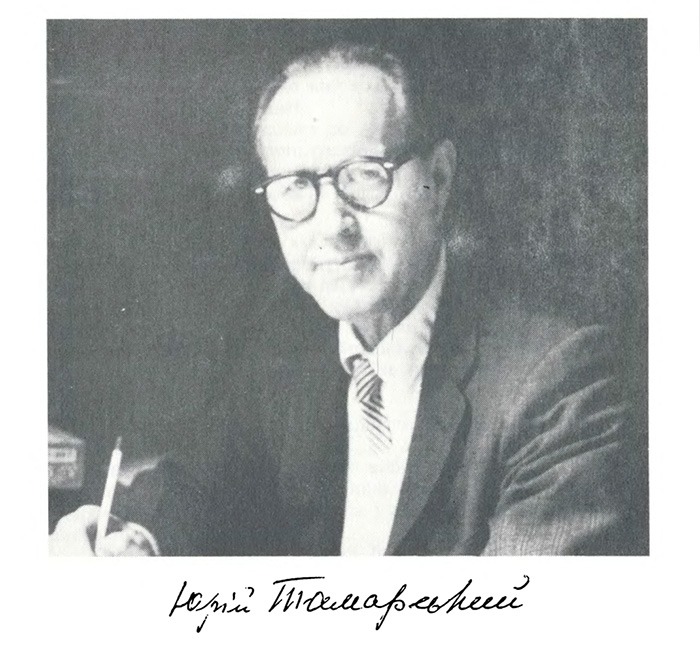 Yurii Tamarskyi (Yurii Kovbasiuk) was a Ukrainian director, producer, cameraman of Kyiv and Odesa film studios.
He was born in Podillia. Having spent his entire life in Kyiv, 14-year-old Kovbasiuk, a student of the first Kyiv Commercial School, joined the Free Cossacks of the Ukrainian People's Republic. Having risen to the rank of the cornet of the 1st Mounted Regiment, after the defeat of the Ukrainian troops he found himself in Wadowice detention camp.
In 1924, Yurii Kovbasiuk changed his name to Tamarskyi and joined Odesa Cinema Technical College, where he studied at the Screen (Acting) Faculty together with Hanna Fesak (a future Hollywood star Anna Sten).
Tamarskyi appeared as an extra in mass scenes of Battleship Potemkin (1925), Struggle of the Giants (1926), and Spartacus (1926).
Eager to become a cameraman, he transferred to the Technical Faculty and made his début as a cameraman assistant for the film Vasia the Reformer. During the shooting process he made friends with the scriptwriter Oleksandr Dovzhenko. That's why Jean Kovbasiuk became the protagonist of Dovzhenko's directorial début Love's Berries (1926).
Assisting Danylo Demutskyi at making Fresh Wind (1926), Tamarskyi began his own career as a cameraman, filming many feature films and non-fiction kulturfilms (Mill in the Undergrowth (1927), Tamilla (1927, in co-authorship)), Dzhalma (1928, co-authored), Sketches of the Soviet City (1929), Vesele Village (1929), Contact (1930, co-authored), Mirabeau (1930, co-authored), Mud Therapy (Грязелікування) (1930). Before the war, he managed to shoot a few more films, Fighting Accidence in Aviation (Боротьба з аварійнйстю в авіації) (1934), The Last Port (Останній порт) (1934), Liberation (1940, co-authored with Oleksandr Dovzhenko), and the first Ukrainian colour film The Sorochyntsi Fair (Сорочинський ярмарок) (1939).
During the German occupation, Tamarskyi became a member of the Writers' Union of Ukraine, headed by Olena Teliha, and worked at Kyiv Film Studio (presently, Ukraine-Film). Together with Mykola Topchii, he made several documentary films: Kyiv, Ukrainian Artists (Українські митці), and Ukrainians in Germany (Українці в Німеччині).
In 1945, Tamarskyi and his family emigrated from Ukraine to Brazil, where he made about 30 documentary films, including Leading City (Місто, що веде), for which he received a monetary award and a diploma from São Paulo authorities.
In Brazil, Tamarsky launched the first lab for colour film processing, made the first stereoscopic and the first full-length colour film, and was commissioned by the government to make the films El Salvador, Rio de Janeiro and Brazil.
In 1960, he moved to the USA, and in co-authorship with Slavko Navytskyi he made Shevchenko in Washington (1965), an iconic film for the Ukrainian diaspora.