THE ARRIVAL OF A TRACTOR. Tractor (S)KhTZ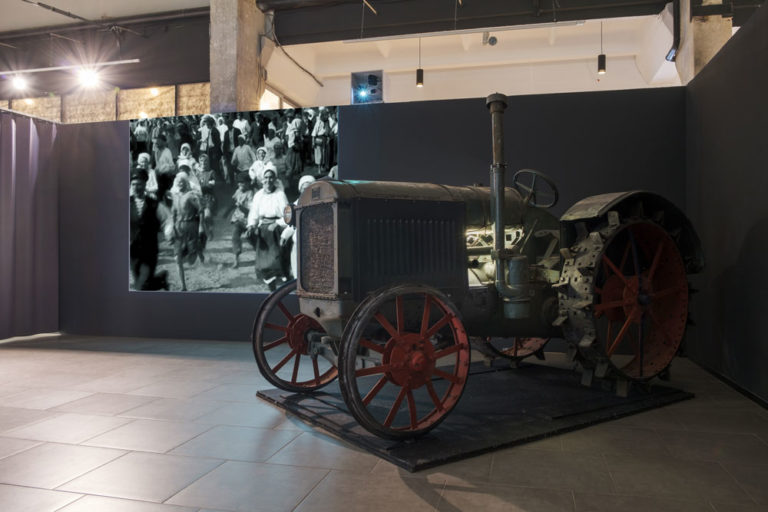 If in the modern European culture the train was an obligatory symbol of technical progress, in the Soviet Union this role belonged to the tractor – a steel superstar of collectivisation.
Althouth Lenin fantasised about a one hundred thousand army of tractors back in 1919, the first Soviet tractor Zaporozhets appeared only four years later in Ukraine.
And yet, the American industrial giants, International Harvester, Caterpillar and Ford, were to become the main suppliers of agricultural machinery for the Soviet kolkhoz.
The biggest tractor plants in the world in Stalingrad and Kharkiv assembled the most popular Soviet pre-war tractor (S)KhTZ (1932) based on the American McCormick-Deering; and it opens our exhibition.
It is no surprise that after the release of Dziga Vertov's and Mikhail Kaufman's industrial ode The Eleventh Year (1928), it was hard to imagine the Soviet cinema without a tractor. Moreover, the scene of the arrival of a new tractor Fordson in the village became a climax of two VUFKU blockbusters, Dzhalma (1929) and Earth (1930).
The latter turned Oleksandr Dovzhenko into a legend of the world cinema, but it made Stalin mad because the film protagonists urinated in the radiator to start the tractor, which died in the field.