FROM DISCUSSION TO CENSORSHIP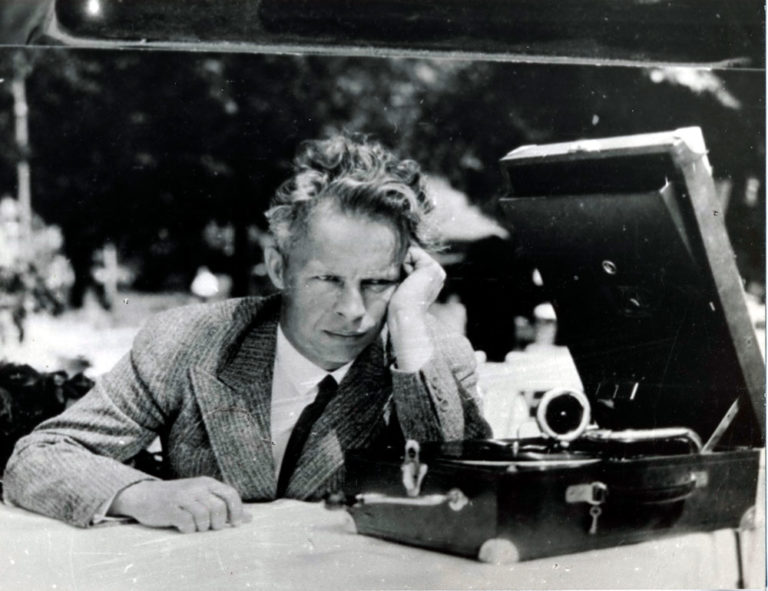 Dovzhenko's phonograph given by Stalin
On their way to the exit, visitors will get into a "terror corridor," a rather uncomfortable and repressed structure, an attempt to demonstrate the negative dynamics of the Ukrainian culture at the bodily level: from the industrial prosperity, international ambitions and experiments to the limitation of rights and freedoms under the tension of omnipresent fear and terror.
Thus, in the late 1920s, the horizon of possibilities of both VUFKU and the Ukrainian culture narrowed significantly. Moreover, in 1930, the successful, progressive and, which is the most important, independent organisation was reformed and turned into an ideologically committed and loyal trust Ukrainfilm, subject directly to Moscow. Who and what should be filmed/watched was now decided outside Ukraine.
There were serious staff changes at the film studios, not only managers but also editors were fired. A number of scripts and films were rejected because of ideological "flaws" and unnecessary experiments. From now on, the staff was replenished with directors invited from Russia and ideologically skilled, though inexperienced Komsomol members.
At the end of the 1920s, the Ukrainian cultural workers could resent the attacks at the autonomy of the Ukrainian culture in collective letters to the authorities and in public speeches; they had the "audacity" to argue with the vozhd. However, at the beginning of the 1930s, the epoch of democratic discussions was over, and arrests of intellectuals, namely as part of fabricated cases of the Freedom of Ukraine trial, suicides, executions and Holodomor started.
Officially, the country became "better and more cheerful," that is why most often cinemas demonstrated films of the new favourite genre – musical comedies. In May 1935, Stalin presented Dovzhenko with a phonograph as a sign of his affection and as a hint at the further genre trends. In 1936–1937, the clamour of repression and purges reached a fever-pitch.