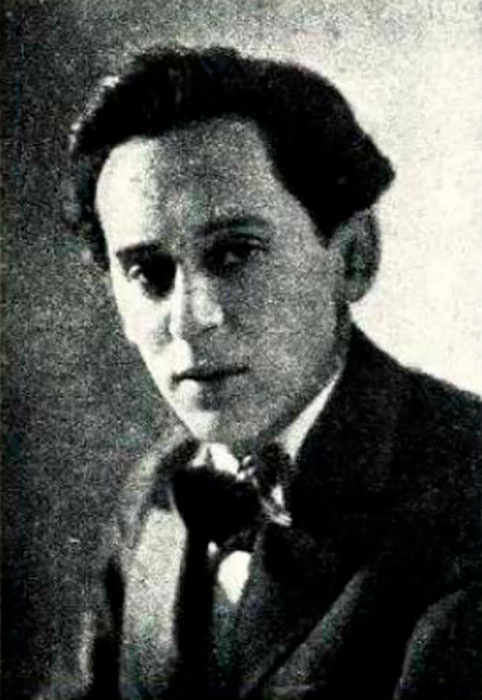 Viktor Turin (1895-1945) did not make that many films but he became known in the history of world cinema due to the reference film of the Soviet avant-garde of the 1920s Turksib. He left two more undervalued works Struggle of the Giants and The Provocator in the treasury of Ukrainian cinema.
In 1912, a native of Saint-Petersburg, son of an opposition lawyer and graduate of Realschule and a theatre school, 17-year-old Viktor Turin went to his family members in Boston. Next year, he entered Massachusetts Institute of Technology (which is nowadays considered to be the best technical institute in the world). After receiving a degree in engineering, Turin went to the newly created Hollywood, where he either worked as a film extra and librettist or was involved in film directorship and worked for Vitagraph Studios, which was later bought by Warner Brothers.
In 1922, Turin returned to the USSR and settled in the south of Ukraine where under the umbrella of VUFKU Ukrainian cinema was rapidly developing.
In 1924, Turin's name was associated with the idea of screening Lunacharsky's play Arsonists which, directed by Boris Glagolin (a future VUFKU director), was staged by Ivan Franko Theatre in Kharkiv.
Turin's first major film was Struggle of the Giants (1926) shot at Yalta Film Studio based on Solomon Lazurin's film and script. The film impressed the audience, not least due to the work of the young German artist Robert Scharfenberg. Struggle of the Giants was screened in the Ukrainian SSR in March 1926, and soon the film was demonstrated in Vienna.
In May 1926, Turin began shooting a spy melodrama The Provocator, the only screened script of the Vaplite writer Oles Dosvitnii.
Turin's further career was associated with the film trust Vostokkino, an organisation established in 1928 on the basis of Chuvashkino for the promotion of the Soviet ideology in the republics of Central Asia.
In 1920, Yalta Film Studio became part of the trust. At the new studio, Turin tried himself in a new genre of kulturfilm and shot a full-length film Turksib (1929) about the construction of the Turkestan–Siberian Railway and sovietisation of Central Asia.
Film critics actually canonised Turksib and proclaimed it a reference film of Soviet cinema. The film was successfully demonstrated in Berlin, Vienna, Copenhagen, Rotterdam, and London.