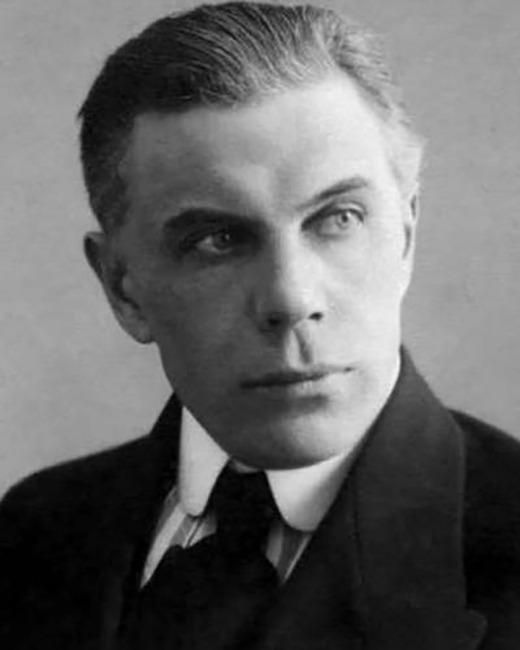 Petro Chardynin (Pyotr Krasavtsev) was a pioneer of the Russian, Latvian and Ukrainian cinema, the author of several of the most expensive VUFKU productions, under the umbrella of which Chardynin had been working since 1923 and almost to his death.
He was born in the town of Cherdyn, Perm region. In his youth he escaped from home to Moscow, where he took courses at the Music and Drama School in the class of Vladimir Nemirovich-Danchenko. After that, Petro Krasavtsev took the nickname Chardyn, later replacing it with Chardynin. He had been an actor and a theatrical agent for a long time.
He got into filmmaking thanks to his acquaintance with Oleksandr Khanzhonkov, who was one of the most influential filmmakers of the Russian Empire. He tried his hand at camerawork and directing. Subsequently, he transferred to work for Khanzhonkov's competitor Dmytro Kharytonov.
According to various data, before the 1917 revolution, Chardynin made about 120 films, including some of the best films starring the top actress of the Ukrainian cinema Vira Kholodna – Mirages (Міражі) (1915) and Be silent, sorrow… Be silent (Мовчи, сум, мовчи) (1918, leading role).
In 1919, having shot Kholodna's funeral, Chardynin emigrated from Russia. For some time, he worked in France, Germany, Italy, and after moving to Latvia, he found himself at the origins of the local filmmaking.
From 1923, at the invitation of VUFKU, Petro Chardynin started working at the First Odesa Film Studio, making a total of 13 Ukrainian films. Among them, there was one of the first Ukrainian blockbusters Ukrasiia (1925), dedicated to the espionage and intervention of the White Guards in northern Ukraine. During the year, he filmed two iconic biopics, Taras Shevchenko (1926) and Taras Triasylo (1927), based on Volodymyr Sosiura's poem of the same name. The legendary Ukrainian actor Amvrosii Buchma played the leading role in both films.
It is Taras Shevchenko that is considered the first Ukrainian biopic, the first feature film about the life of the poet, the longest and the most expensive film in the history of VUFKU. Its production cost 288,000 rubles, while usually film costs averaged 70,000 rubles. Like his legendary muse, Vira Kholodna, Petro Chardynin died in Odesa in 1934 of liver cancer, and later a cenotaph of the actress was installed on his grave.