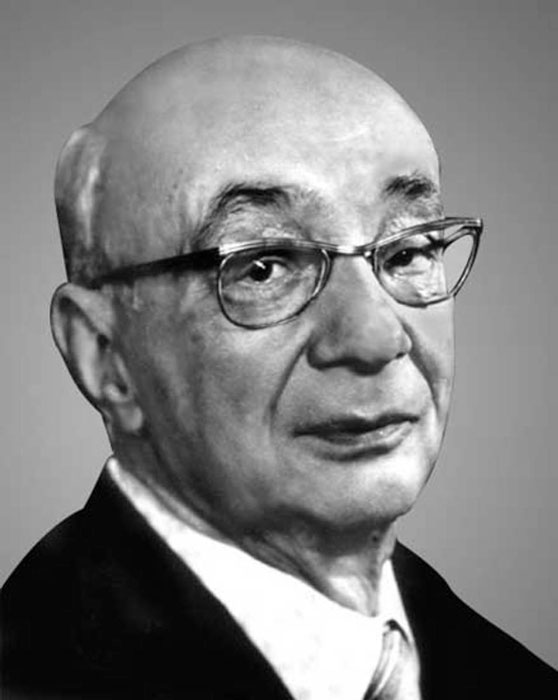 Mykola Bazhan (Nick Bazhan) was a Ukrainian Futurist poet, writer, scriptwriter, a public and political activist, translator, a regular author and actual editor of the journal Kino.
Mykola Bazhan was born in Kamianets-Podilskyi in a family of a topographical engineer. He spent his adolescence in Uman.
In the early 1920s, Bazhan, a graduate of Uman Cooperative College, moved to Kyiv and entered the Institute of Foreign Relations. In 1923, Bazhan's first poem Antimony of the crowds (Сурма юрм) was published in the October Collection of Panfuturists.
Since then, the poet and journalist Bazhan had many of his works published, and collaborated with the newspaper Bolshevik. Together with Geo Shkurupii, he became one of the closest followers of Ukrainian Futurism leader Mykhail Semenko, wrote for Barykady Teatru (a journal of Berezil theatre) and Nova Generatsiia (a journal of Ukrainian panfuturists).
In 1924, Semenko moved to Odesa where he worked as a chief editor at the film studio. Then, he involved Mykola Bazhan in filmmaking, and the latter soon became a chief editor of the journal Kino in Kyiv.
The film critic Bazhan was one of the first to enthusiastically welcome Oleksandr Dovzhenko's films, the flagship films of the new Ukrainian cinema.
In 1925, Bazhan (with Shkurupii again) made a scandal to join Mykola Khvylovyi's VAPLITE, changed the vector of his literary activities, and later returned to Nova Generatsiia.
In the later 1920s, he wrote scripts for a number of significant VUFKU films, such as Alim (1926), Mykola Dzheria (1927), Adventures of Half a Ruble (1929), Suburban Districts (1930), The Right to a Woman (1930) (together with Oleksii Kapler).
As a translator, Bazhan introduced Pushkin and Mayakovsky, Rilke and Goethe, Shota Rustaveli and Alisher Navaiy to the Ukrainian readership. When Stalin established the monopoly power, Bazhan focused his poetic talent on party propaganda. He wrote the glorifying poems Man stands in star-studded Kremlin (Людина стоїть в зореноснім Кремлі) (1931) and Leader's cry (1939); he was involved in writing the anthem of the Ukrainian SSR and translating the USSR anthem into Ukrainian. Meanwhile, Bazhan developed a grand cultural project in Soviet Ukraine, which was the Ukrainian Soviet Encyclopaedia. He was nominated for the Nobel Prize in the 1970s. Mykola Bazhan died in 1983 in Kyiv aged 79 years old.