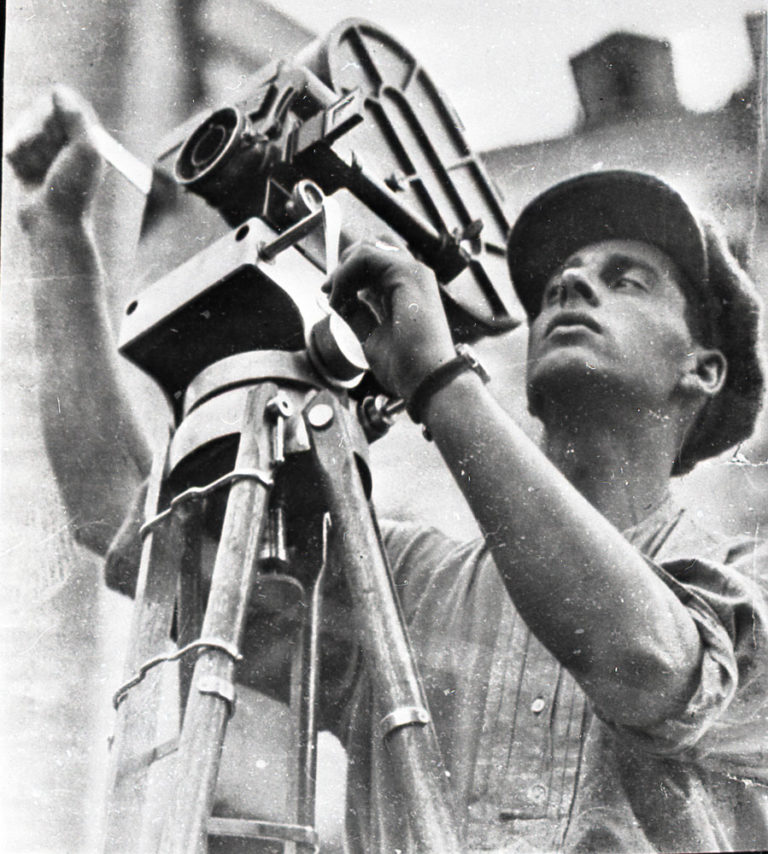 Debrie camera
One of the secrets of VUFKU's success was the strong cameraman school, of which any filmmaking industry in the world could envy. If, initially, the Ukrainian film studios employed representatives of older generations, who filmed in Tsarist Russia (Borys Zaveliev, Heorhii Drobin, Louis Forestier), or even German experts (Joseph Rona), later, young Ukrainian experts began to be involved in the work. It was they who began to shape the visual language of the national cinema and achieved perfection in it.
Most young cameramen of that time came to cinema through photography, namely, Danylo Demutskyi (Arsenal (1929) and Earth (1930)), who, long before his transfer to VUFKU, was famous with his photographs in Europe, or Oleksii Kaliuzhnyi (Benia Kryk (1927); Karmeliuk (1931)), who started his career as a professional photographer. The latter is also known for his use of a record for that time 32x multi exposure in the lost Ivan Kavaleridze's film Downpour (1929).
Mikhail Kaufman also showed talent to experiments. As a cameraman he filmed the iconic film Man with a Movie Camera (1929), where his eye, caught on camera, actually became the avant-garde logo, and as a film director he made the lyrical masterpiece In Spring.
Later, these masters were joined by the first graduates of the specialised department of Odesa Film School, and there were quite notable filmmakers among them, for example, Oleksii Pankratiev (Bread, (1930)), Yurii Tamarskyi (Tamilla (1927), Dzhalma (1928)), Yakiv Kulish (Gonorrhea (1927)), Mykola Topchii (Perekop (1930)), Oleksandr Lavryk (Vasylyna (1927)). All of them were eager for experiments, were experts in filmmaking, and together with the generation of directors, who were no less gifted, they took the Ukrainian cinema to the highest level.