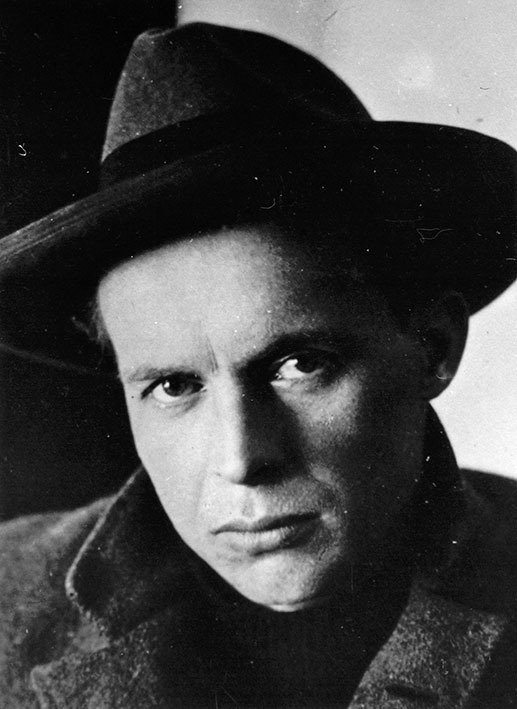 Oleksandr Dovzhenko was a Ukrainian director, author, script writer, and artist.
He was born on 10 September 1894 in a small town Sosnytsia in Chernihiv region. He worked as a teacher. In the 1920s, he was closely connected with the party of Borotbists, worked in the Soviet consulate in Warsaw and Berlin.
In Germany he studied painting, and after returning to Ukraine he worked as a caricaturist for local newspapers. Later, he came to VUFKU, where he worked on the film Vasia the Reformer (1926) with the German cameraman Josef Rona.
His solo directorial début was a comedy Love's Berries (1926) followed by a spy film The Diplomatic Pouch (1926). But Dovzhenko gained most fame with his legendary silent trilogy – Zvenyhora (the first Ukrainian film shown abroad) (1927), Arsenal (1929) and Earth (1930).
It is due to this trilogy that Western filmmaking guides usually include Oleksandr Dovzhenko in the list of the leading directors of the Soviet montage tradition of the 1920s, and these three films are the recognized masterpieces of the global cinema and the pinnacle of the Ukrainian filmmaking.
In the 1930s, after VUFKU re-organisation, it was increasingly difficult for Dovzhenko to make films because of more intense ideological pressure and cultural centralisation.
In 1933, he left Kyiv Film Studio and moved to Moscow. During World War II, he shot a number of agit-films about Ukraine Liberation (1940), Battle for Soviet Ukraine (1943), Victory in the Right-Bank Ukraine (1944)), and later made the film Michurin (1948).
In the 1950s, Dovzhenko lectured a lot and cherished ideas of such films as The discovery of Antarctica, Poem of the Sea, A Fiery Years Story, Enchanted Desna, which were not made in his lifetime. He died on 25 November 1956 aged 62