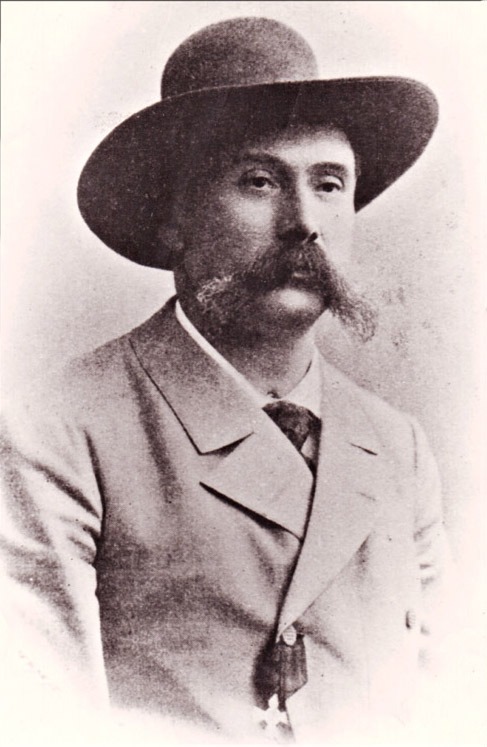 Mykola Sadovskyi (Tobilevych) was a Ukrainian actor, one of the ideologists of the Ukrainian national theatre.
Sadovskyi belonged to a unique family, where all four children became outstanding theatre professionals. Apart from Mykola, they were – Ivan Karpenko-Karyi, a playwright, Panas Saksahanskyi, an actor and director, and Mariia Sadovska-Barilotti, an opera singer and actress.
Sadovskyi was involved in the Russo-Turkish War and, actually, all of the great battles on the Balkans and rose to the rank of officer. However, instead of a career in the military he returned to the theatre where he used to play in amateur productions.
After playing in the acting companies of Ashkarenko, Kropyvnytskyi and Starytskyi for seven years, in 1888, Sadovskyi created his own acting company, and in seven years, he and Mariia Zankovetska, with whom he had a romantic affair, headed Ruska Besida theatre in Lviv.
One year later, he founded the first Ukrainian permanent theatre, first in Poltava, and then in Kyiv. Then, he always held managerial positions in different theatres and played as an actor, distinguished with his acting techniques and a wide range of roles.
Some of his most significant roles were Bohdan Khmelnytskyi (in M. Starytskyi's play of the same name), Sava Chalyi (I. Karpenko-Karyi), Hetman Doroshenko (L. Starytska-Cherniakhivska), Dmytro (It Was Not Destined by M. Starytskyi), Opanas (The Vagabond by I. Karpenko-Karyi).
During the revolutionary events, he cooperated with the Ukrainian People's Republic, because of which he had to live in Prague from 1923 to 1926. After returning to Ukraine, he could not hold managerial positions, but he played in theatre.
He played in Arnold Kordium's film Wind from the Rapids (1929). In this film, the 72-year-old actor played the leading role without doubles. He easily dived in the icy cold Dnieper and surprised everyone with his genuine talent again.