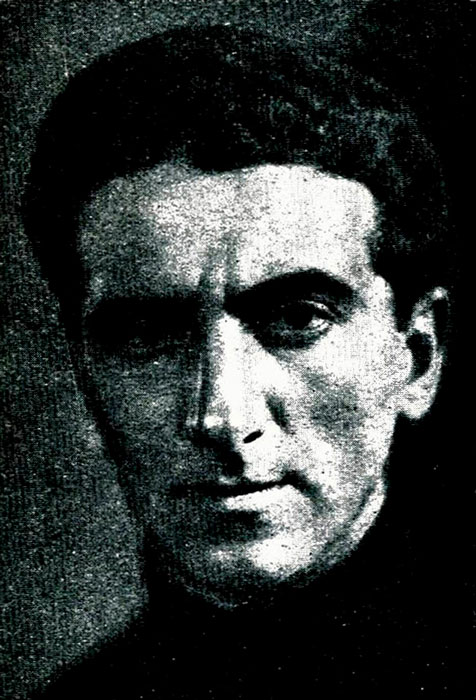 Favst Lopatynskyi was a theatre actor, stunt master, scriptwriter, and Berezil and VUFKU director.
He was born in Lviv, in the family of a theatre practitioner and writer Lev Lopatynskyi, and actress and singer Filomena Lopatynska. Since childhood he enjoyed playing in amateur theatre.
He started his theatrical career in 1915-1916 during the occupation of Galicia by the Russian troops. He played at Ternopil Theatre Evenings in Les Kurbas's acting company; later, during many years, they worked together on various stages.
In 1916, he moved to Kyiv, where in 1918-1919, he played at Molodyi Theatre; and in 1920-1921, he played at Kyiv Drama Theatre (Kyidramte); in 1921-1922, he worked as an actor at the First State Drama Theatre of the Ukrainian Soviet Socialist Republic named after T. Shevchenko.
As Berezil was established, he joined the artistic association as an actor, director and head of one of theatre studios.
Lopatynskyi played mainly grotesque and eccentric roles that required good circus training and skilful performance of tricks, however, he also did well in lyrical roles. He used stunts and circus elements in his directing work at theatre and filmmaking.
In 1926, Lopatynskyi left the theatre and started working at Odesa Film Studio VUFKU. His first project was to be the children's comedy Vasia the Reformer, but the director was not allowed to finish it, and it was given to the scriptwriter Oleksandr Dovzhenko and cameraman Danylo Demutskyi, who were only starting filmmaking at that time. The film has not survived, as well as Lopatynskyi's next work, The Blue Package (1926), written by Geo Shkurupian and Hnat Ihnatovych and shot by Oleksii Kaliuzhnyi.
In 1928, Lopatynskyi filmed a screen version of Vasylyna by I. Nechui-Levytskyi; the film survived without two parts and became one of the reasons for the director's later persecution for the Ukrainian nationalism. The leading role in the film was played by Zinaida Pihulovych, the director's wife and his Berezil colleague. In the same 1928, Lopatynskyi made an experimental film Dynamo, based on a short story by Herbert Wells. The film is lost.
In 1929, he shot Judge Reitanesku, which is also lost.
In 1931, Karmeliuk, one of his most famous films, was released. Leading actors of Berezil starred there, and Oleksii Kaliuzhnyi was the cameraman. The film provoked a burst of crushing criticism in the press for "romanticizing the past" and nationalism. But the most serious accusations came a little later: in 1937, in the article How Nationalists Harmed Ukrainian Cinema (published in Radianske Kino), Lopatynskyi was not only reminded of his nationalist "perversions," Karmeliuk and Vasylyna, but was also called "the enemy of the people".
The director made some more sound films, Height # 5 (Висота № 5)  (1932) and The Mizhhirya Novel (Роман Міжгір'я) (1933), and then he could not direct any longer, so he wrote scripts.
In 1932, he wrote the script for the film Ukraine, which included episodes of grain stock piling, that were very transparently reminiscent of the events of the Holodomor. The script caused problems not only for the director, but also for the cameraman Danylo Demutskyi, who was arrested for four months in 1932 for keeping that text.
Lopatynskyi was also arrested for four months, however, that happened a little later, in 1933. After his release, Lopatynskyi stopped his filmmaking career and moved to Kharkiv, where he played at the Workers' Youth Theatre (TROM). The director was arrested in June 1937 and shot down in September of the same year. He was rehabilitated posthumously in 1962.