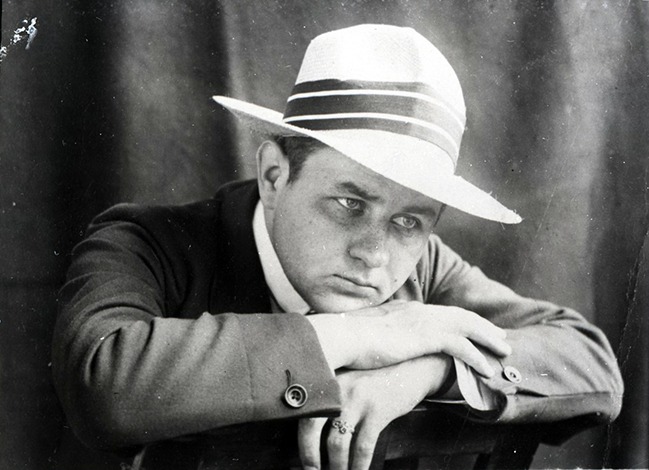 Danylo Demutskyi was a legendary Ukrainian photographer and an experimental cameraman who filmed Two Days (1927), Arsenal (1929) and Earth (1930).
He was born in Cherkasy region in a family of a doctor, Mykola Lysenko's student and collector of the Ukrainian folk music. From his childhood, he was fond of music and dreamt of a conductor career. Fascinated by photography, he joined Kyiv society of amateur photographers Dagger.
He entered the Faculty of Medicine of Saint Vladimir University (now Taras Shevchenko National University), but after visiting a mortuary for the first time he decided to become a lawyer.
In 1913, Demutskyi participated in the All-Ukrainian exhibition of photo artists with four landscapes shot by a meniscus lens. After graduation, he was engaged not in legal, but in photography practice. He presented his works at Kyiv, Kharkiv, Odesa, Moscow and Saint-Petersburg exhibitions. He worked as a photographer for journals Vestnik Fotografii and Solntse Rossii and at his own photo studio at Les Kurbas's Berezil theatre.
In 1921, the young Ukrainian Academy of Science asked Demutskyi to organise an academic photo laboratory.
Starting 1926, he began working in filmmaking, first as the head of the photo laboratory at Odesa Film Studio (made actors' film tests), and later, supported by Oleksii Kaliuzhnyi, as a cameraman.
Together with the German cameraman Joseph Rona, he made his first films Vasia the Reformer (1926) and Love's Berries (1926).
He was friends with Oleksandr Dovzhenko; they went on business trip to Berlin-London-Paris together, and their collaboration was one of the most famous and successful in the history of Ukrainian cinema. They filmed Arsenal (1929), Earth (1930), and Ivan (1932). Moreover, at Odesa Film Studio Demutskyi filmed Heorhii Stabovyi's Fresh Wind (1927) and Two Days (1927), while also Caprice of Catherine ІІ (1928), Forest Man (1928), and I Present It to You (1929).
After the war, at Kyiv Film Studio he filmed one of the most popular detectives about war, the famous Secret Agent (1947), and then In Peaceful Time (1950, an Award for the Best Camera Work in Karlovy Vary), Taras Shevchenko (1951), and The Viburnum Grove (1953).
However, before the war, on 19 October 1934, the cameraman of Kyiv Film Studio Danylo Demutskyi was arrested and repressed. He was exiled to Tashkent. Just before the war, he returned to Kyiv for a short time.
His next three films, Nasreddin in Bukhara (1943), Tahir and Zukhra (1945), and The Adventures of Nasreddin (1947), were made during the war at Tashkent Film Studio.
"If Danylo Demutskyi had filmed only Earth in his entire life and had not been the author of other great works of art, humanity would still have considered him one of the most outstanding artists of his time," Henri Barbusse wrote about him.