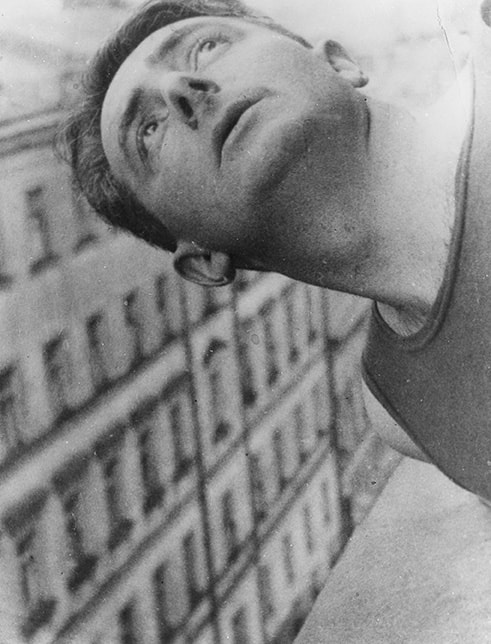 Dziga Vertov (Davyd Abeliovych (Denys Arkadiiovych) Kaufman) was one of the most distinguished Russian and Ukrainian avant-garde directors, a pioneer of the documentary film.
His filmmaking career began in 1917 when, invited by his friend Mikhail Koltsov, he began to work at the Moscow Film Committee administration. He was first engaged in paper work only, but he soon mastered the basics of filming and editing, and in the autumn he made his test films.
Kaufman made his real film work one year later; in 1918, he was tasked with editing the newsreel Річниця революції/Anniversary of the Revolution. Then, Davyd Kaufman began actively using the pseudonym Dziga Vertov. Dziga Vertov substantiated his role of a "documentary director" in 1922, when he and his colleagues created the movement of Kinoks.
In their manifesto We, Kinoks offered to replace "the dramatisation of life phenomena" with real life caught unawares by an impersonal mechanical eye. However, the aggressive rhetoric of Vertov's theory faced severe resistance; Viktor Shklovsky and Sergei Eisenstein became Kinoks' opponents.
In 1927, Vertov was fired from Sovkino; "failure to submit the script of Man with a Movie Camera on time" being named as an official reason. Invited by Odesa Film Studio, he moved to Ukraine, where, in 1929, he finished the film Man with a Movie Camera.
Although it failed at the box office, it had a tremendous impact on the documentary genre. A lot of Vertov's inventions of that time nowadays became de facto standards in documentary.
In 1930, in Ukraine Vertov made his next film, which was the first Soviet sound film, Enthusiasm: The Symphony of Donbass. In the early 1930s, he returned to Moscow. After the war, forgotten and discredited, he fell a victim to the Soviet anti-Semitic campaign, the so-called "struggle against cosmopolitanism."