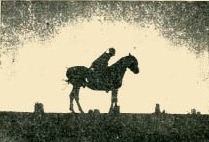 Swamp Lights / Black Forest
1930, First Film Studio VUFKU (Odesa), 6 parts / 1,400 m
After the war, the Red Army veteran Haivoron returns to Polissia village of Bystrivka, which is famous for its pottery.
The pottery instructor Polishchuk comes to the village with him. They establish a cooperative. The actual owners of the craft – Volynskyi and his family – do not like the idea. First, the instructor Polishchuk is shot from around the corner, and then seeking vengeance, the "owners" explode the kiln.
Later, when a local newspaper writes about this accident, the arsonists stand trial.
The film is lost.